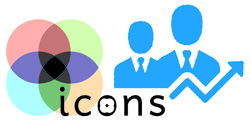 Welcome to our employment section. Your fast track to success!

While the terms "job" and "career" are often used to mean the same thing, they really are conceptually different. A person usually holds several jobs in their CAREER. It is usually easier to change jobs in the same field of work that define ones career. However, switching careers is more difficult and may require the person to start at the bottom of the ladder in the new career.
At ICONS we treasure your needs and are looking for individuals who are willing to make their next step in their CAREER in their pursuit of a lifelong ambition or the general course of progression towards lifelong goals. Within our organization and network we reduce risks of instability. If instead a CAREER path change is required or desired, within our network you will find an easier path to change.
If on the other hand you are starting your CAREER and are looking for a "safe" job, stability of work and an adequate income, at ICONS we will be happy to introduce you to our network and fast-track your recruitment possibilities through the Job Vacancies within the ICONS organization or posted with us by our valued Clients and Partners.
Should you be interested to subscribing please follow the instructions outlined in the following sections. If you also know somebody whom you feel would be interested in joining our team? Please refer him/her to us.
Start viewing opportunities by Clicking now on Job Vacancies